Global health as both personal and professional passions
Science for global health and development
Not content to strictly do science or public health, Jessica aims to use her scientific expertise to directly impact global health and international development through policy, advocacy, and communication activities. Her professional interests include evidence-based health policy, building research capacity and access to scientific information in resource-poor settings, promoting innovative and multidisciplinary research, global health diplomacy, and the One Health approach to global health. She is also particularly interested in the intersect between wildlife conservation and zoonotic disease surveillance. Jessica is an active member of Global Health Council, American Society of Tropical Medicine and Hygiene, and American Society of Microbiology.
Jessica's scientific research has predominately focused on diseases of global concern (HIV, malaria, influenza), and now she actively uses her scientific expertise and thinking within global health, international development, and healthcare organizations. Jessica has worked on projects with a range of global health stakeholders, including NIAID, the World Bank's Global HIV/AIDS Program, Metabiota, Inis Communication, UNAIDS, and Population Services International. She has co-authored several publications and presentations on HIV prevention and program policy, global health security, evidence-based global health policy, and TB bioinformatics. She serves as Prospero Analytics' Senior Science Advisor and is affiliated with the University of Pennsylvania's Center for Global Health as an Associate Scholar. Jessica was on the AIDS 2016 Scientific Program Planning Committee for the conference held in Durban, South Africa.
personal experience with global health
Jessica's interests in global health and international development were piqued early. Jessica's father met her mother while he was a Peace Corps volunteer in Paraguay. Although she was born and grew up in the United States, she has visited her family in Paraguay regularly, giving her a unique perspective into what it is like to live in a poor country. She is continually fascinated by her mother's childhood stories describing the various diseases she and her siblings contracted and the non-traditional medicine used to treat them. Even now, there are still significant health disparities and challenges among the most impoverished in the country, including the indigenous populations.
Other global health activities
During her tenure at the National Institutes of Health, Jessica founded the NIH Global Health Interest Group (GHIG) in 2012, with the mission of uniting and strengthening the community at NIH working on or interested in global health projects. As the Chair of the GHIG Steering Committee, Jessica led the organization of regular global health seminars and networking events, including an NIH-wide Global Health Symposium in 2014. The symposium featured NIH Director Francis Collins and speakers from US government and local and international universities, and 450+ registered for the event, including international attendance through webcast.
Currently, Jessica is a regular panelist and science correspondent on the weekly live YouTube broadcast, This Week in Global Health. She also was named among the 100 Women Leaders in Global Health by Graduate Institute Geneva. Along with Prospero's Chair Tim Stephens and Vanderbilt University's John Walsh, Jessica is contributing to the infectious disease history project, "The Great Influenza, One Day at a Time."
Global Health Publications and Presentations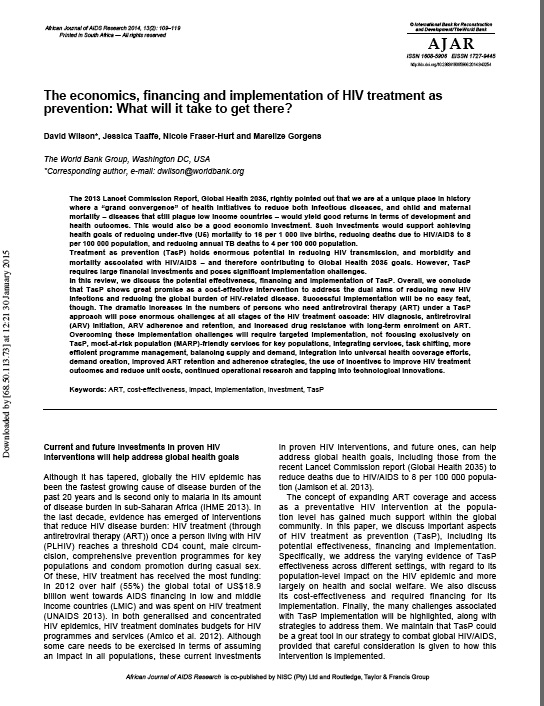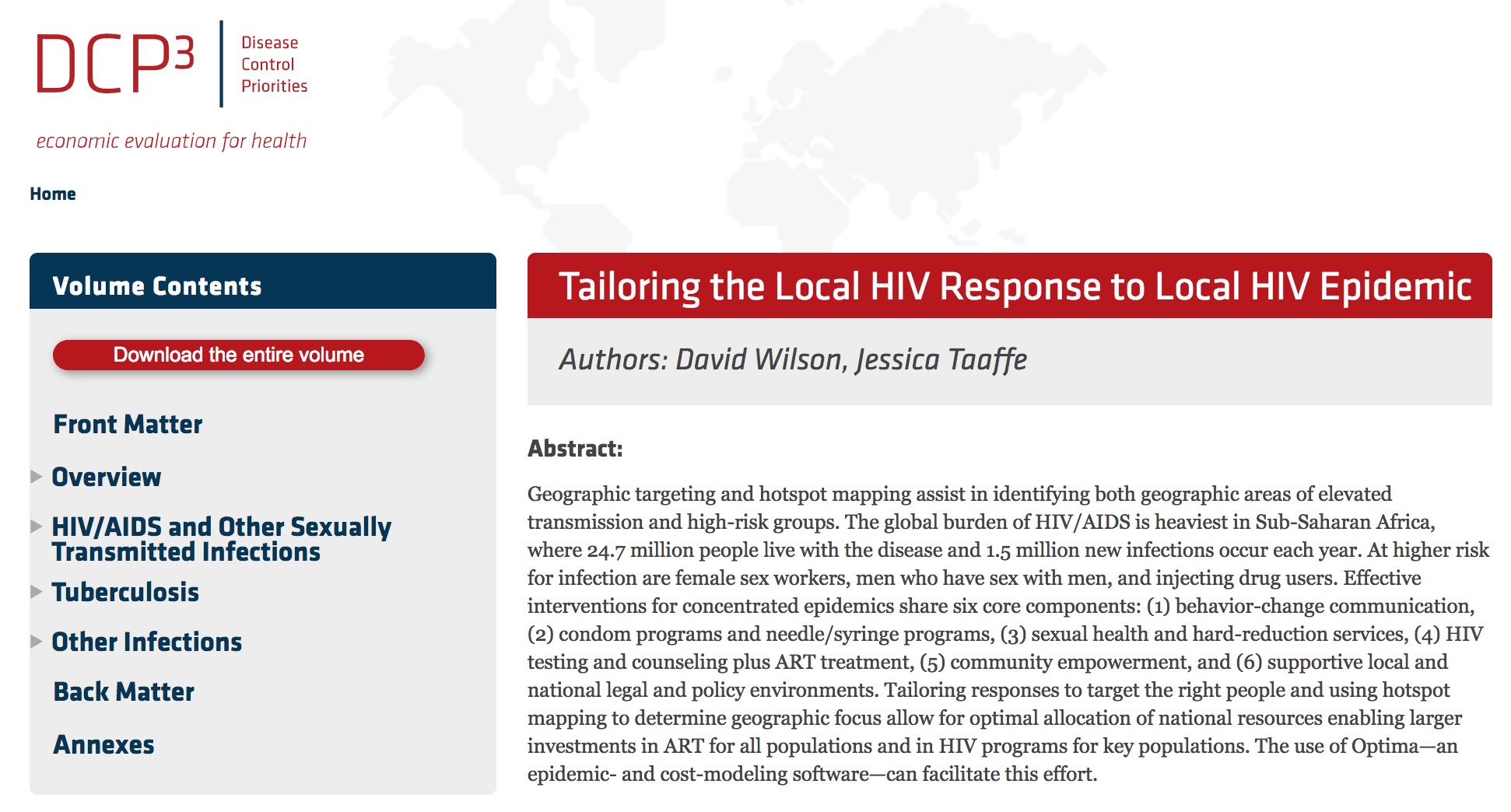 Key Publications
Taaffe, J., and Wilson, D. (2017) "Tailoring the local HIV response to local HIV epidemics", Disease Control Priorities, 3rd Ed.: Major Infectious Diseases.
Rosenthal, A. et al. (2017) The TB Portals: an Open-Access, Web-Based Platform for Global Drug-Resistant-Tuberculosis Data Sharing and Analysis. J Clin Microbiol, 55(11):3267-3282
Taaffe, J., Longosz, A., and Wilson, D. (2017) The impact of cash transfers on livelihoods, education, health and HIV – what's the evidence? Dev Policy Rev, 00, 1–19.
Bali, S., and Taaffe, J. (2017) Exploring the synergies between the SDGs and Global Health Security Agenda for a sustainable and resilient world. J of Public Health Policy.
Taaffe, J., and Wilson, D. (2016) Mobilizing a Global Movement for Hepatitis: Lessons Learned from the HIV Response. Global Public Health, 1-16.
Taaffe J, Cheikh N, Wilson D. (2016) The use of cash transfers for HIV prevention - are we there yet? Afr J AIDS Res 15(1):17-25.
Bassett IV, Wilson D, Taaffe J, et al. (2015) Financial incentives to improve progression through the HIV treatment cascade. Curr Opin HIV AIDS 10(6):451-63
Taaffe, J, Fraser-Hurt, N, Gorgens, M, Harimurti, P. (2014) A Comprehensive Review of Empirical and Modeled HIV Incidence Trends (1990-2012) World Bank Policy Research Working Paper No. 7042.
Wilson D, Taaffe J, Fraser-Hurt N, et al. (2014) The economics, financing and implementation of HIV treatment as prevention: what will it take to get there? Afr J AIDS Res 13(2):109-19.